PRESS RELEASE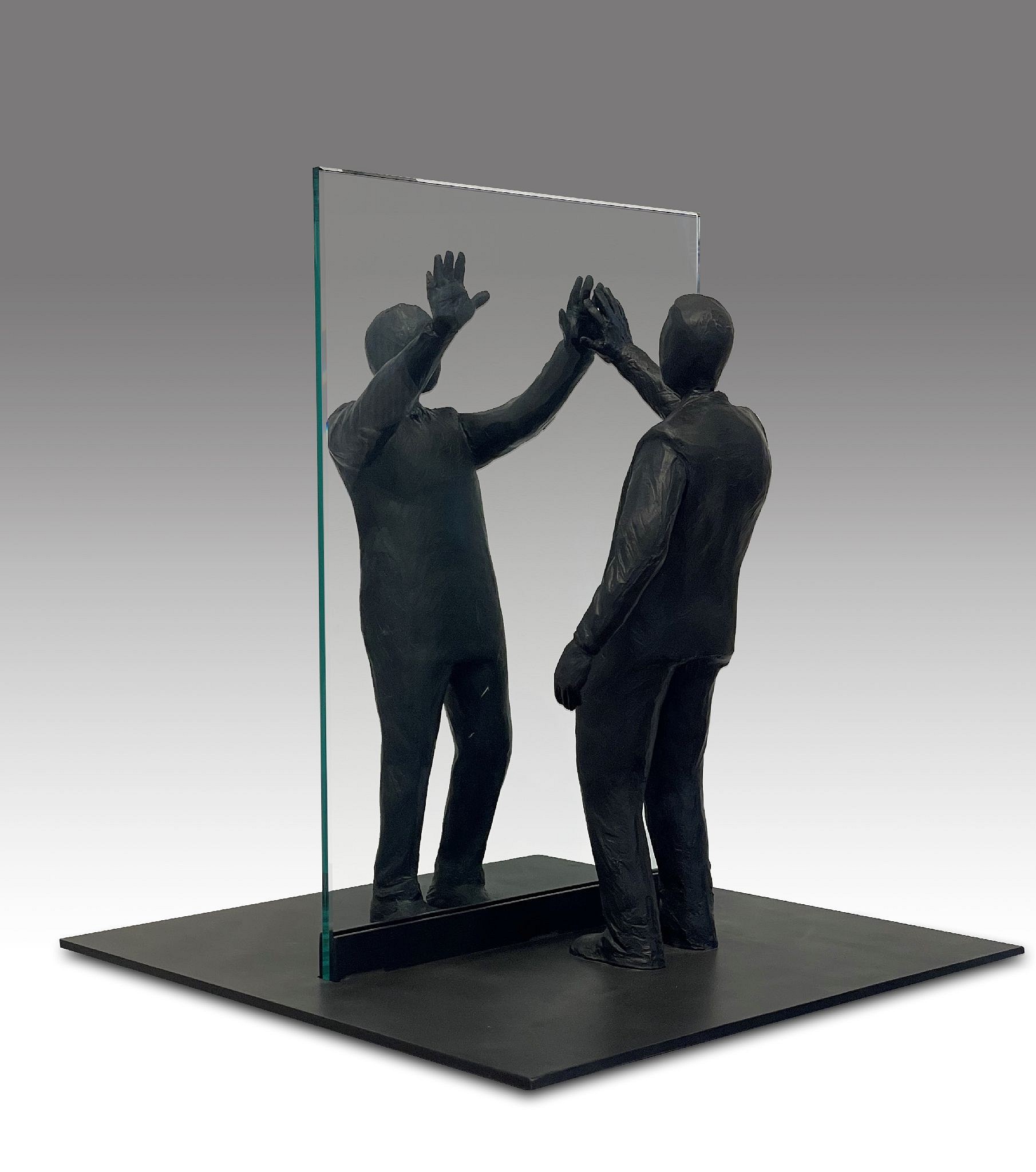 Jim Rennert: Balance reveals an artist at the top of his game and reaching new heights
September 15, 2023, New York, NY —Cavalier Galleries is delighted to present Balance, a solo exhibition of new sculptures, drawings, and paintings by acclaimed artist Jim Rennert. Best known for his larger-than-life bronze sculptures of businessmen, who have populated New York City streets since 2014, Balance showcases the latest creations of this newly elected Fellow of the National Sculpture Society. The exhibition opens Thursday, October 5, with an artist reception from 6–8 p.m., and runs through Saturday, October 28 at 530 West 24th Street.
Jim Rennert's joyful embrace of the unknown is how he became an artist in the first place. He has the grit and tenacity to follow through on his vision and fearlessly finds a way to tackle the inevitable and often unpredictable challenges of life. But even someone who has found his stride and achieved recognition in his field knows what it's like to feel off kilter when things take a more dizzying turn. It was only recently, in fact, that the artist realized that the physical challenges of the past couple of years were becoming manifest in his work. After hip surgery, Rennert found himself literally off balance, prone to falling on busy city streets or in an apartment stairwell, a daily hazard that he adapted to with his typical grace and humility. He learned to fall without hurting himself (or others), to accept the kindness of strangers, to plan his routes carefully, and to find humor along the way.
Rennert's new body of work is revelatory. It shows an artist in his prime, who is both supremely confident in his native medium of clay and bronze, and constantly seeking to push himself in new directions—the lifeblood of success in any profession. Three clay sculptures on prototype pedestals, accompanied by detailed sketches, bring the artist's studio process into the gallery space. A series of solitary figures who have reached a certain pinnacle, struggle with surety of footing atop a very small apex. There is elegance and levity in these works even as they depict a visceral precariousness. The most gestural of the artist's work to date, the figures convey a beauty grown from adversity, a vulnerability transformed into strength as the avoidance of falling becomes a sort of dance.
The exhibition also reveals Rennert as a gifted draftsman. His preferred method of drawing digitally on a computer tablet provides a fascinating counterpoint to the earthiness and physicality of his work in clay and bronze. The new drawings possess an energy and immediacy that translate the artist's ebullient personality into lines brimming with life.
On view for the first time as a complete series are Rennert's bronze, steel, and glass works from 2022. The introduction of a transparent medium serves as a versatile symbol for the artist, an illustrative shorthand for—on the one hand—invisible barriers and psychological obstacles, and on the other, moments of clarity and insight.
Rennert's latest portrayals of his Everyman alter ego in both two and three-dimensions seem to communicate more powerfully than ever. Storytelling remains the heart of Rennert's work and over the past several decades, his figures have evinced an evolutionary shift from prose to poetry. Forms are sparer, details omitted, and even facial expressions are left to the viewer's imagination. This economy of form coupled with refinement of concept allows for broader accessibility and interpretation. There is genius in simplicity, and a directness in the work that evokes spontaneous responses from people of all ages, backgrounds, and identities. Rennert's now-famous "businessman" has become a vessel for universal human experiences running the gamut from playful to profound.
Marking the occasion of Rennert's solo exhibition, Cavalier Galleries has published an updated second edition of the artist's 2018 monograph, Jim Rennert: With These Hands. Featuring essays by Carter Ratcliff, Adam Adelson, and Ron Cavalier, the book surveys Rennert's career to date with images of more than 80 artworks. Jim Rennert: Balance is on view at Cavalier Gallery in Chelsea from October 5 through 28, 2023. View the exhibition online at cavaliergalleries.com.
###
Press Contacts:
Joellen Adae joellen@cavaliergalleries.com
Lindsay Ebanks lindsay@cavaliergalleries.com
Gallery hours: Tuesday through Saturday, 10:00 a.m. to 6:00 p.m. and by appointment.