PRESS RELEASE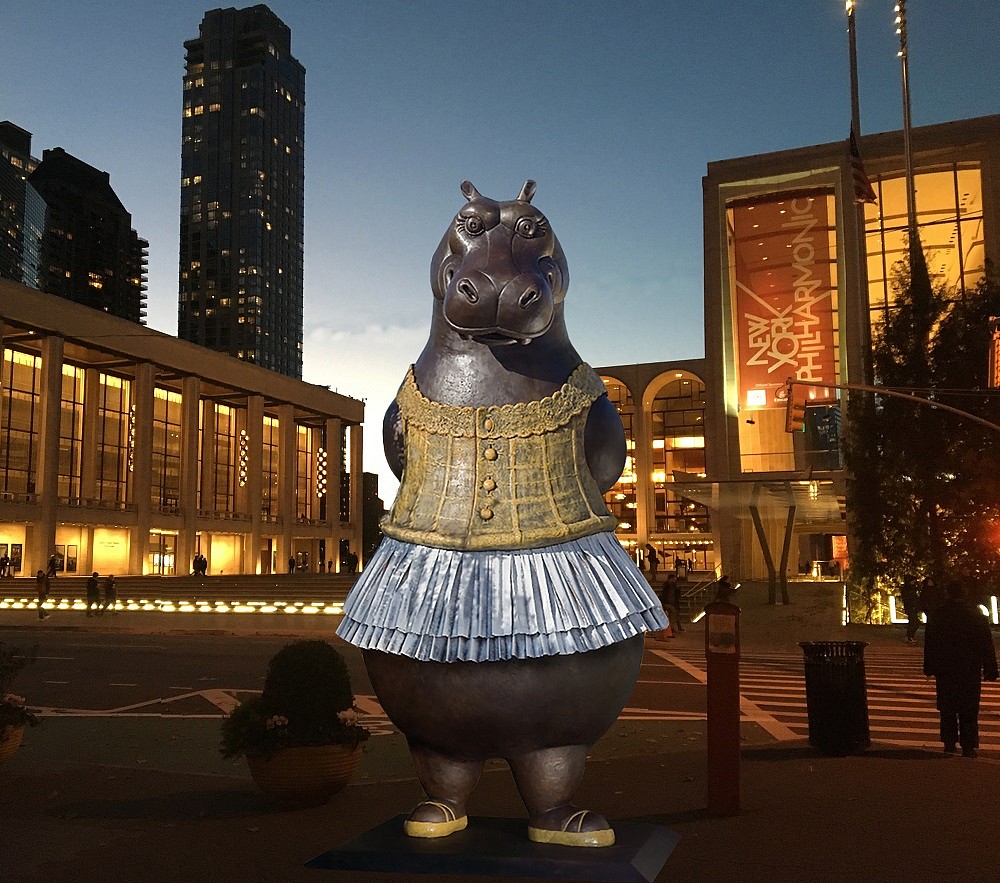 New Public Art Sculpture, HIPPO BALLERINA, to be Installed at 64th and Broadway
In Partnership with the NYC Parks Art in the Parks program
Feb. 7 – October 1, 2017
Standing over 15-ft tall, weighing over 2½ tons, cast in bronze, and clad in a copper tutu, Hippo Ballerina, 2017, by Danish artist Bjørn Okholm Skaarup, will be making her Broadway debut from Feb. 7 – October 1, 2017, at NYC's Dante Park at the intersection of 64th Street and Broadway. Following in the mighty footsteps of impressive animal sculptures including the lounging lions, raging bull, and crouching cougar that lord over the city's most treasured landmarks, NYC Parks' Art in the Parks program has given Hippo Ballerina a pride of place right across from Lincoln Center for the Performing Arts.
Inspired by Degas' Little Dancer Aged Fourteen (Petite danseuse de quatorze ans) and the dancing hippos of Walt Disney's Fantasia, Hippo Ballerina vividly illustrates the artist's ability to reinterpret subjects and themes found in ancient myths, art history, modern animation, and contemporary popular culture in playful ways that engage the viewer.
"I think a fun way to revitalize themes from art history that have been forgotten lately is through animal allegories, because we are so used to that through animation and fables," said Skaarup.
Visitors wishing to share the spotlight with Hippo Ballerina are invited to post photos striking their favorite dance poses in front of Skaarup's sculpture on their Instagram pages. Instagrammers marking their photos with the hashtag #Dancewithhippoballerina will have the chance to win two tickets to a ballet performance at Lincoln Center. The Instagram contest will run Feb 7 – March 31, 2017. Details will be provided beginning January 2017, on Facebook: www.facebook.com/dancewithhippoballerina and on Instagram: @Dancewithhippoballerina.
Adding to the merriment, Bronze Creatures Great and Small, the companion exhibition to Skaarup's first New York City public sculpture installation, will be on view at Cavalier Gallery at 3 West 57th Street from Feb. 8 to March 17, 2017. Featuring over twelve animal bronzes, ranging in scale from small to colossal, each member of this menagerie (select editions are also on permanent view in lavish locales including St. Barth's) has a telling tale to tell. Leading the pack will be The Majestic Lion, 2008. Mounted mischievously atop a wobbly rocking horse rather than an imposing steed, he sports the commanding pose, bejeweled crown, and imposing armor of a magnificent monarch.
In the grand tradition of Ancient Greek and Roman sculpture, many of Skaruup's bronzes are also patinated in bright hues to appear more lifelike. Vibrantly adorned in bright jewel tones, Dancing Bear, 2013, dressed as the Ballets Russes star Vaslav Nijinsky, perches on one foot atop a Fabergé egg, evocative of classical depictions of Fortuna, the goddess of luck, balancing on a ball. Along with Ballerina Hippo, these life-size sculptures were cast in Florence, Italy, at Ciglia & Carria Fonderia Artistica.
Other acrobatically-inclined animals performing feats of fortitude will include a cheetah riding a razor scooter to glide faster, a kangaroo hopping on pogo stick to leap farther, and a frog holding on to a bouncy ball to hop higher.
Inspired by two thousand years of art history, and the Ancient Greek and Roman, Italian Renaissance, and French Impressionist bronze masters who helped to shaped it, Skaarup's well-crafted, anthropomorphic figures combine the artist's devotion to serious academic study with his lighthearted wit to create a wonderful world of whimsy.