PRESS RELEASE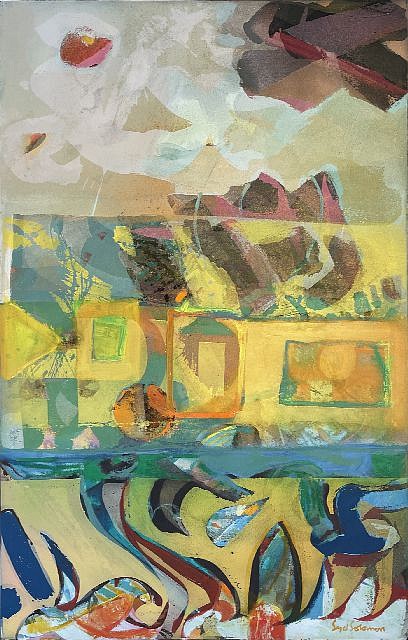 Syd Solomon: Paintings from 1975-1991
Feb. 8 – 20, 2022
Cavalier Gallery
235 C Worth Avenue & 292 S County Road
Palm Beach FL 33480
(561) 770-3168
Cavalier Gallery is pleased to announce our representation of the Estate of Syd Solomon in the Southeast. We will welcome the work of this celebrated artist with a collection of 14 paintings on view in our special exhibition space at 292 South County Road in Palm Beach, Florida. This exhibition will honor the remarkable career of American Abstract Expressionist Syd Solomon (1917-2004), with a focus on canvases composed between 1975-1991. The collection of works in this exhibition demonstrate his affinity for color, his innovation of medium, and his lyrical compositional style. The feature exhibition will be on view from February 8-20, 2022 and works from the Estate of the Artist will be available throughout the year in our Worth Avenue gallery.
Solomon's works on canvas reflect natural elements in an abstract style and are undeniably influenced by his environment and experience. His artistic sensibility proved useful at the dawn of WWII when, before the attack on Pearl Harbor, he voluntarily joined the War effort to serve in the First Camouflage Battalion of the 924th Engineer Aviation Regiment of the US Army. Solomon crafted camouflage designs that were used during the Normandy invasion, and his camouflage instruction manuals were distributed throughout the U.S. Army. These designs were shared with the English camouflage experts, many of whom were artists, including Barbara Hepworth, Roland Penrose, and Henry Moore. Solomon was awarded five bronze stars for his contributions as a camoufleur, an experience that was foundational to his unique approach to Abstract Expressionism.
Following the war, Solomon and his wife moved to Sarasota, Florida, where he found great inspiration in the surrounding aquatic environment. Elements of water, aquatic ecosystems, and refractions of light can be seen in his canvases following this move in the late 1940s. In October of 1972, art critic Harold Rosenberg visited Solomon's studio to see the work he had created in his new house on the beach in Sarasota, designed by the notable architect Gene Leedy, stating, "It is great to see these paintings in this light and in this environment. They are most beautiful in this space."
Solomon's work has always been rooted in Florida, with some of his earliest solo and group shows taking place across Miami, Fort Lauderdale, Boca Raton, Palm Beach, Tampa, St. Petersburg, and Sarasota. During the 1950s and 1960s, Syd Solomon was also involved in a number of shows and activities at the Society of Four Arts in Palm Beach, Florida. The mutual impact between Solomon and his life in Florida is evident on the canvas, and we are proud to be exhibiting his work in the state that was so influential to him and his work.
It was at this same time that Solomon began experimenting with acrylic paint and aerosol sprays which put him at the forefront of technical artistic innovations of his generation. Notably, he was one of the first artists to use aerosol sprays and combine them with resists, an innovation influenced by his camouflage experience. In 1956 he was given the Channing Hare Award by Dorothy C. Miller, Curator of the Museum of Modern Art, New York, NY. By 1959 his work continued to gain the admiration of Museum of Modern Art curators Peter Selz and Dorothy C. Miller, the Whitney Museum of American Art's director John Baur, and many others. At this time, Syd Solomon's paintings entered the collections of the Solomon R. Guggenheim Museum, the Whitney Museum of American Art, and over 100 additional museum collections.
These works created between 1975-1991 represent the most notable elements of Solomons artistry. On each canvas we observe the influences of his time as a camoufleur, distinct impressions of the sea, and his passion for the abstraction of his surrounding environment, all of which come together as one. This translucent layering of colors and patterns used to evoke nature distinguishes Solomon's style in the Abstract Expressionist movement.
Please contact us at art@cavaliergalleries.com for more information regarding the upcoming exhibition.
Syd Solomon in his boat, Stump Pass, Florida. c. 1970s Photo Courtesy Solomon Archive