BIOGRAPHY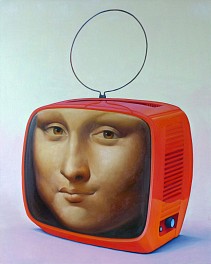 American, b. 1961
Artist Statement
The intention of this work is to generate conversations about values and identity by assembling unlikely pairs, Hollywood film icons and nostalgic comic book environments. Each entity reveals a partial narrative. The nature of a comic and the personas of the movie stars, presented in the ethos of the Hollywood studio system, act as blank canvases for us to project our personal experience, principles and standards of behavior. There is a connection and a disconnect between these entities beyond technique. They exist within a single frame and are aware of each other's existence yet there is an element of obliviousness. Something is happening and they can't seem to take it in. Their dissociation, the separation of the two entities, compels comment.

Selected Exhibitions
William Nelson: Love and Science [Solo Exhibition], Cavalier Gallery, New York, NY, 2023
Summer Selections, Cavalier Gallery, New York, NY, 2023
Art Palm Beach, Palm Beach, FL, 2023
24th Street: Inaugural Group Show, New York, NY, 2023
Group Show, Cavalier Galleries, New York, NY, 2022
William Nelson: Pretty, Desirable, Delightful, Dangerous [Solo Exhibition], New York, NY, 2022
Palm Beach Modern + Contemporary, West Palm Beach, FL, 2022
Contemporary Representational Art, Cavalier Galleries, Palm Beach, FL, 2022
Art Miami, Miami, FL, 2021
The Palm Beach Show, Palm Beach, FL, 2021
William Nelson: Confluence [Solo Exhibition], Cavalier Galleries, New York, NY, 2020
A Different Perspective, Chase Edwards Contemporary, Bridgehampton, NY, 2020
The Palm Beach Show, Palm Beach, FL, 2020
New York State of Mind Online Exhibition, Cavalier Ebanks Galleries, 2020
Annual Small Works Online Exhibition, Cavalier Ebanks Galleries, 2019
Rare Aspen, Aspen, CO, 2019
Art New York, New York, NY, 2019
Summer Group Show, Cavalier Ebanks Galleries, Greenwich, CT, 2019
Nexus [Solo Exhibition], Cavalier Ebanks Galleries, Greenwich, CT, 2019
Palm Beach Modern + Contemporary, Palm Beach, FL, 2019
Mixed Messages [Solo Exhibition], Cavalier Gallery, New York, NY, 2018
RE:FORMATION, Gallery Madison Park, New York, NY, 2018
Artists of the Premier Collection, Gordon Fine Arts Gallery, Stamford, CT, 2017
Baba Yaga Eats, Fields Studio Gallery, New York, NY, 2016
Together Again, Firing Circuits Artists, St. Paul's on the Green, Norwalk, CT, 2016
Close to the Edge, Katonah Museum Artists Association, Pound Ridge, NY, 2015
Time and Place, The Hammond Museum, North Salem, NY, 2015
Pop Up Show, Christopher Robert Gallery, Stamford, CT, 2014
Sprouting Spaces, Solo Exhibition, Fernando Luis Alvarez Gallery, Stamford, CT, 2013
Faber Birren Art Show, Stamford Art Association, CT, 2012 - Prize Awarded
April Fools, The Nest Gallery, Bridgeport, CT, 2012
Condition X, SVA Westside Gallery, New York, NY, 2011
UNABASHED, The Portrait and Figure, Dacia Gallery, New York, NY, 2011
Awards and Honors
Sprouting Spaces, Harbor Point Artist in Residence, Stamford, CT, 2013 - 2014
Joyce and Bob Jones Prize, 32nd Annual Faber Birren Color Awards Show, 2012
Artist in Residence, School of Visual Arts MFA Computer Art, 2009
Artist Residency in Painting and Multimedia, School Of Visual Arts, New York, NY, 2009
Institute for Computers in the Arts Award, New York, NY, 1993
Education
School of Visual Arts, New York City, MFA Computer Art, 1993
University of Florida, Gainesville, FL, BS Interdisciplinary Studies, 1984
Exhibition catalog essay, "PRETTY, Desirable, Delightful, DANGEROUS," 2022
Ronald J. Cavalier. Jr.
William Nelson's paintings revel in contradictions, offering viewers and collectors a powerful dose of serious fun. Bill is a serious artist, pursuing and perfecting his craft with diligence, employing a traditional medium and historical techniques to inventive and original ends. When I first saw his work, on a printed brochure he had mailed to various galleries, I questioned whether the paintings were, in fact, oil paintings, rather than mixed media works, possibly involving digital art, collage, or printing on canvas. So, I scheduled a studio visit to see for myself.
After thirty-six years in the gallery business, I can tell within minutes of meeting someone in their studio environment whether they will thrive as a professional fine artist. That day in the Firing Circuits Studios building in Norwalk, Connecticut, I quickly discovered that Bill was the real deal. He has the magic blend of vision, passion, and commitment (read: hard work) necessary for any artist to establish, sustain, and grow a collector base.
Bill's love of his work, of the process and the product, is obvious when you meet him and palpable through his paintings. His art is big and bold. It compels curiosity and conversation. Bill paints what he wants to see on the canvas, drawing from the visual database of his mind, spanning the earliest memories of his childhood to present day. Vintage comic books, 1960s-and 1970s-era cartoons, the Golden Age of Hollywood, and pop culture celebrities coexist on his picture planes in striking combinations—often funny, sometimes sexy, always intriguing.
Each composition is a celebration of imagination, at once consummately contemporary and tinged with nostalgia. Bob and Jacques (2019) combines two famed undersea personalities in one five-foot-square painting. The animated television character Sponge Bob Square Pants occupies the aqueous background, smoking a bubble pipe with eyes closed in contentment, while French oceanographer Jacques-Yves Costeau (1910–1997) looks directly at the viewer from the corner of the canvas. Costeau's face is rendered in a nearly photorealistic grayscale yet his cap and the pipe he grips between his teeth become almost cartoonish in their depiction, and Costeau's portrait is outlined in black as if he has stepped into an animated world.
The artist's latest series combines famous faces of past or present with iconic American landscape and cityscape vignettes and a particular emphasis on New York City landmarks. In a painting titled 51st and Lex, Audrey Hepburn of Breakfast at Tiffany's reclines with effortless elegance along the bottom edge of the painted picture frame, set in black-and-white glory against a richly-colored background depicting the 1931 General Electric Building's (also known as the RCA Victor Building) Gothic Revival crown. A nod to the Lexington Avenue landmark's origins takes the form of lightning dancing in the midnight blue sky. The skyscraper's pinnacle is framed by a large circle and bordered by a pastiche of Art Deco-styled stained glass, and comic-book-inspired gargoyles.
Each of Bill's canvases are similarly dense with references—to people, places, movies, television, comics, art history, national landmarks, even social media. They are visual feasts, constructivist both in their creation and their interpretation, unique to the individual experiencing the work and their personal histories. Nelson's own history plays an outsize role in his visual repertoire. While growing up in Florida, he devoured the Sunday comics, visited the movie theater frequently—especially on the hottest summer days for a respite from the sun, and was keenly aware of the larger-than-life cultural presence of Disney World and the uniquely Floridian Gatorland theme park. What he lacked in exposure to the fine arts, he made up for in his avid consumption of the images surrounding him—drawings, films, the sculptural elements of the landscape and built environment. As a young adult, he moved to New York City, where he earned his MFA at the School of Visual Arts, met and married his wife, began his career as an artist, and where his children were born. The city and its architectural marvels opened his eyes to a whole new visual panoply, and now makes its way onto his canvases as muse and memory.
Throughout the artist's life, the movies have been an abiding love and constant companion. Aside from the depictions of famous actors, scenes ripped from movie posters and reframed in the narratives of his paintings, Bill has a clear affinity for creating dramatic tension in his work. He is a master of setting the stage, scripting the scene, bringing disparate characters together with a finely-tuned friction that makes his pictures sizzle and pop, commanding our attention much in the same way as the big screen has always captured his own.
Bill uses his considerable technical skill to play on the canvas, occasionally employing visual tricks such as endowing his portrait subjects with a ubiquitous gaze, such that the subject's eyes seem to follow a viewer as they move from one side of the painting to the other. He plays with two- and three-dimensional form, flirting with photorealism then yielding to passages of flattened space and line drawing. He is clever in his use of shallow depth, overlap, and picture-within-a-picture devices.
Over the past several years of working together, I have noticed, with admiration, that Bill seems to enjoy pushing boundaries with each new painting, stretching himself as an artist, making rules and then breaking them, because, after all, why not? It's his vision and he's in control of the outcome, including the element of surprise. For William Nelson's collectors, dealers, and admirers, one of the best parts about his artmaking is that you just never know what he will come up with next.