BIOGRAPHY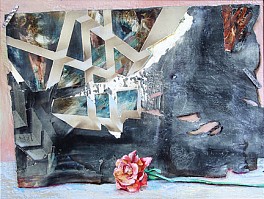 American, b. 1950
Steve Hawley, born in Brooklyn, NY, in 1950, received his diploma and graduate diploma from the School of the Museum of Fine Arts in Boston MA.
After graduation, Hawley went on to become an instructor at the School of the Museum of Fine Arts, as well as an instructor in Painting and Drawing at Tufts University located in Medford, MA. He was a visiting artist at the Pennsylvania Academy of Fine Arts in Philadelphia, PA.
Articles featuring Hawley have appeared in the New York Times, American Art Now, Weekend Art World and many other newspapers and magazines. He's been the recipient of the Alternate Fulbright-Hays Full Grant in Painting to Italy, the Individual Artists Grant (Artists Foundation), Massachusetts Arts and Humanities Foundation.
He has received the Resident Artist Grant from The Master School of Simsbury, Connecticut and was a finalist in the Massachusetts Artists' Foundation.
Education
1973, School of the Museum of Fine Arts, Graduate Diploma, 5th Year, Boston, MA
1972, School of Museum of Fine Arts, Diploma, Boston, MA
Solo Exhibitions
2019 Ogunquit Museum of American Art, Ogunquit, ME
2015 Lepore Fine Arts, Newburyport, MA
2004 Gallery NAGA, Boston, MA
2002 The Gallery, Framemakers, Danvers, MA
1997 Roslyn Sailor Fine Arts, Margate, NJ
1993 Sherry French Gallery, New York, NY
1989 Alexander F. Milliken Inc., New York, NY
1987 Fujii Gallery, Tokyo, Japan
1987 J. Rosenthal Fine Arts, Chicago, IL
1986 Alexander F. Milliken Inc., New York, NY
Selected Group Exhibitions
2020 Contemporary Realism, Cavalier Galleries, New York, NY
2019 Contemporary Realism, Cavalier Ebanks Galleries, Greenwich, CT
2017 As We See It: The Collection of Gail and Ernst von Metzsch, New Britain Museum of American Art, New Britain, CT
2015 Photorealism: The Sydney and Walda Besthoff Collection, New Orleans Museum of Art, New Orleans, MS
2015 Fatal Attraction, Piotr Uklanski selects from the Met collection, the Metropolitan Museum of Art, New York, NY
2014 Contemporary Realism, Cavalier Galleries, New York, NY
2013 Figurative Group Show, Cavalier Galleries, Greenwich, CT
2013 Premier Group Show, Cavalier Galleries, New York, NY
2009 Modern & Contemporary Masters, Cavalier Galleries, Nantucket, MA
2005 What is Realism?, Albemarle Gallery, London, England
2005 Western Biennale of Art, John Natsoulas Center for the Arts, Davis, CA
Public Collections
Boise Art Museum, Boise, ID
Ogunquit Museum of Art, Ogunquit, ME
Portland Museum of Art, Portland, ME
Christ Church Cathedral, St. Louis, MO
Metropolitan Museum of Art, New York, NY
Smithsonian Museum of American Art, Washington, DC
Brooklyn Museum, Brooklyn, NY
Hunter Museum of Art, Chattanooga, TN
Hyde Collection, Glens Falls, NY
De Cordova Museum and Sculpture Park, Lincoln, MA
The Arkansas Art Center, Little Rock, AR
Corporate Collections
Boston University, Boston, MA
E.F. Hutton & Co., New York, NY
First National Bank of Boston, Boston, MA
Ingles Mettler Design, Detroit, MI
Manufacturer's Bank, Detroit, MI
Monument Federal Savings & Loan, Pepperell and Acton, MA
Palmer Dodge, Inc., Boston, MA
Peabody, Brown, Rowley and Storey, Inc., Boston, MA
Steelcase Corporation, New York, NY
Stephens Inc., Little Rock, AR
The Frehauf Corporation, Detroit, MI
The Tomasso Company, New Britain, CT
Awards
1990, Finalist, Massachusetts Artists' Foundation
1978, Alternate Fulbright-Hays Full Grant in Painting, Italy
1976, Individual Artist Grant, Massachusetts Arts and Humanities Foundation
1972-73, School of the Museum of Fine Ars Scholarship