BIOGRAPHY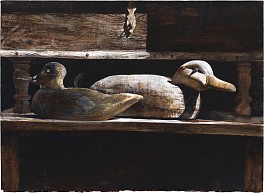 American, b. 1957
Born in Hawaii, Stephen Scott Young spent most of his early life traveling around the United States. Eventually settling in Florida, where he attended the Ringling School of Art and Design, Young has devoted his career to depicting the southern United States and the Bahamas. Exhibited nationally and internationally, Young is one of the nation's premiere realist watercolorists and etchers.
Young's work is also on display at several major American museums, including the Cleveland Museum of Art, the Butler Institute of American Art, and the Kemper Museum of Contemporary Art.
He is featured in the permanent exhibits of the Brandywine River Museum in Chadds Ford, Pennsylvania, and the Greenville County Museum in South Carolina. In May of 2012, Young began exhibiting a retrospective of the past twenty five years of his career painting the Bahamas. The opening at Christie's in New York City coincided with the publication of Once Upon an Island: Stephen Scott Young in the Bahamas, written by art historian William H. Gerdts.

EDUCATION:
Ringling School of Art and Design Sarasota, FL
EXHIBITIONS:
Jan-Feb, 2016 American Paintings: 150 Years of Exceptional Representational Works, Cavalier Galleries Greenwich, CT
Feb, 2016 Palm Beach Jewelry, Art and Antique Show Palm Beach, FL
Mar-May, 2016 Spring Group Exhibition, Cavalier Galleries Greenwich, CT
Nov-Dec, 2016 Cavalier Galleries 30th Anniversary New York, NY
Mar-Apr, 2016 Contemporary Still Life New York, NY
Jun-Aug, 2017 MIXED Ground Floor Show at Cavalier Galleries New York New York, NY
2014 "Stephen Scott Young" Kiawah Island, SC
2013 "New Works by Stephen Scott Young" Hilton Head, SC
2012 "Stephen Scott Young: I'll Be Your Witness," Greenville County Museum of Art Greenville, SC
2012 "Freedom: The Art of Stephen Scott Young," Christie's New York New York, NY
2007 "Stephen Scott Young, A Master Among Us" Montgomery Museum of Fine Arts Montgomery, AL
2005 "Remix: Stephen Scott Young," Greenville County Museum of Art Greenville, SC
2004 "A View from the Bahamas," Museum of Art Fort Lauderdale Ft. Lauderdale, FL
2004 "Stephen Scott Young: A Portrait of Greenville," Greenville County Museum of Art Greenville, SC
1994 "Stephen Scott Young: In the American Tradition," Jacksonville Art Museum Jacksonville, FL
1993 "Stephen Scott Young: In the American Tradition," Museum of Fine Arts St. Petersburg, FL
1993 "Stephen Scott Young: In the American Tradition," Arkansas Arts Center Little Rock, AR
1993 "Stephen Scott Young: In the American Tradition," The Butler Institute of American Art Youngstown, OH
1989 "Stephen Scott Young" Norton Gallery of Art West Palm Beach, FL
1989 "Stephen Scott Young" Hunter Museum of American Art Chattanooga, TN