BIOGRAPHY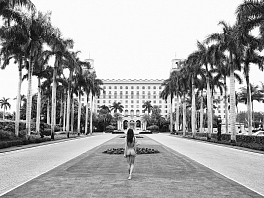 British, b. 1979
Nathan Coe has long danced a fine line between the innovative and the conventional. "Old school" in his technique, Nathan is able to marry the contemporary with the traditional for truly one-of-a-kind pieces of fine art. Using rich contrasts and dramatic lighting, Nathan's images take the viewer on a journey throughout the frame with his creativity and passion extending well past the initial click of the camera. Nathan Coe's images have been featured in Vogue, Town & Country, Billboard and more.
Coe's 2014 Double Exposure Exhibition at Cavalier Galleries took him to new heights in the world of fine art. Inspired by Nantucket, Coe wanted to show a new dimension of the beautiful landscapes he had long been shooting. Coe's appreciation for the sensual beauty of the natural landscape gave him the idea to overlay the female form on the landscapes to tell a new story. The end result is a captivating, provocative, one-of-a-kind piece of fine art. With the large-scale photos being editions of one, these pieces are truly a collector's item.
Nathan Coe's passion for photography began at university, graduating with a BA Hons degree from the University of Gloucestershire, England in Photography and Media. Coe then moved to Nantucket where he made a name for himself as the Creative Director/Editor of N Magazine, leading the team through a rebrand, and cementing N Magazine as a hugely successful destination publication.
Coe left N Magazine to pursue his fine art photography. He is still living on Nantucket today with his wife Kate and their son Seve. Family is extremely important to Coe; in his spare time, he loves to take Seve out onto his home golf course, Miacomet Golf Club. Coe is a scratch golfer who once worked under the England Golf Head Coach Gary Smith.
Photography aside, Nathan Coe has also found himself very much a part of the Nantucket community. In 2013 he founded Nativ Made, a healthy grab-and-go eatery where you will find locally sourced meal options, pastries, and cold-pressed-juices, with locations in Nantucket and South Beach. Coe has also served on the board of numerous non-profits and enjoys volunteering at local charity events. Coe is especially passionate about helping those with special needs, whether donating time or a piece of art, he gives back whenever he can. This passion comes from his relationship with his younger brother Reuben who was born with Down's Syndrome. Nathan credits Reuben for teaching him about humility, patience, beauty, love, and so much more.
Education
2002 BA Hons Degree in Photography and Media, University of Gloucestershire, England
Selected Exhibitions
2022 Nathan Coe: Timeless, Cavalier Galleries, Palm Beach, FL
2022 Palm Beach Modern + Contemporary, Cavalier Galleries, West Palm Beach, FL
2021 Palm Beach Modern + Contemporary, Cavalier Galleries West Palm Beach, FL
2020 Nathan Coe: 2020 Summer Exhibition, Cavalier Galleries Nantucket, MA
2020 New York State of Mind [Online Exhibition], Cavalier Galleries
2019 Important Photography Group Show, Cavalier Galleries, New York, NY
2019 Palm Beach Jewelry, Art & Antique Show, Cavalier Galleries West Palm Beach, FL
2019 Group Exhibition, Cavalier Galleries, New York, NY
2019 Solo Exhibition, Cavalier Galleries, Nantucket, MA
2015 Solo Exhibition, Cavalier Galleries, Nantucket, MA
2015 Nantucket Double Exposures, Cavalier Galleries, Nantucket, MA
2014 Group Exhibition, Cavalier Galleries, Greenwich, CT
2014 Group Exhibition, Cavalier Galleries, New York, NY
2014 New York Art, Antique & Jewelry Show, Cavalier Galleries, New York, NY
2014 Palm Beach Jewelry, Art & Antique Show, Cavalier Galleries, Palm Beach, FL
2014 Nantucket Double Exposures, Cavalier Galleries, Nantucket, MA