BIOGRAPHY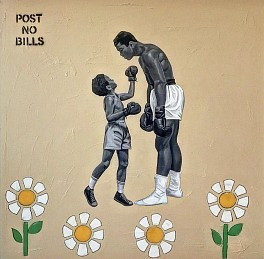 b. 1977
Haitian-born, Connecticut-raised, modern artist Guy Stanley Philoche immigrated to Connecticut when he was three. As the middle child of three boys and coming from a family of sports enthusiasts whose passion he didn't share, Philoche turned to art as his calling. While remaining close to his Haitian roots, Philoche was the only son to buck his culture's tradition of the entire family living together and struck out on his own – first attending Paier College of Art and then Yale. He now lives in New York City.

For the past 15 years, Philoche has been attracting international attention with his work and his impressive roster of solo shows. As an artist, his palette is strong and sophisticated. His layering technique has created a body of paintings so richly textured that one can hardly hold back from reaching out and touching the canvas. In fact, it is the artist's intent and wish that the viewer will follow their desire to reach out and feel the different textures of his canvases. His work is for the viewer's pleasure, to be fully enjoyed from a tactile standpoint, and he has varnished the canvases for exactly that reason.

In Philoche's "Come Fly With Me," series, the artist's lush surfaces were inspired by the buildup of city walls, thick with traces of wheatpasted posters, advertisements, tagging and graffiti. Paper airplanes made from collaged reproductions of dollars and euros come zipping through the frames, leaving their swirling trails behind them in great looping gestures. From the glib use of $100 bills for some of the airplanes, to smaller denominations folded into the form of butterflies that momentarily alight on round canvases, Philoche's folded bills draw attention to currency's status as an abstract sign, with no inherent material value once detached from its system of circulation.

In the spirit of nostalgia, Philoche created his "Game Series" which is inspired by joyful childhood memories with his family. As Guy explains "Every Sunday we gathered for dinner." Afterwards, the board games came out. "When playing monopoly there were many 'side deals', exchange of monies and ideas, these were fun, bonding times." In this series the canvases are made to look worn, well used, right down to teeth marks. To achieve this look the artist uses a distressed color palette and textures the canvases with dents, cracks and tears. The goal is to evoke nostalgia, warm memories of shared times with his friends and family.
His series, New York, I Still Love You is a collection of mixed media paintings on canvas that are inspired by famous New York tropes and events. Philoche describes the series as "my way of telling NYC that I still love her! If you have left New York [during the pandemic] these paintings are of the things and places that you loved when you were here that made the city so unique and special. If you are still here, then you know that the city we love is still alive. These paintings reflect the things that we connect with that gives it the pulse you can't find anywhere else," says Philoche. In addition, the mixed media on board series is inspired by Polaroid photographs, "what I love about them is the ability they have to capture a moment - you can write down the when, where and who."
Philoche's powerful palette and perspective have garnered him a strong following – he's collected by everyone from George Clooney, Uma Thurman and Tommy Hilfiger to Deutsche Bank, Merrill Lynch and Barclay Investments Inc. Although very successful, he considers himself an outlier in the fine art space and wants to change the conversation around access to art, in particular for communities of color. His studio is in Harlem and he was one of a handful of artists chosen to work on the Black Lives Matter mural on 125th Street. Philoche is a big believer that art is for the people, he even placed one of his own paintings on a street corner in East Harlem and told his followers on social media that anyone who wanted it could come take it, in the hopes of bringing someone joy. His efforts have been honored and supported by major media outlets including CNN, People Magazine, Reuters, Time Out New York, NBC New York, Palm Beach Daily News, the Kelly Clarkson Show, the Tamron Hall Show, and more.