BIOGRAPHY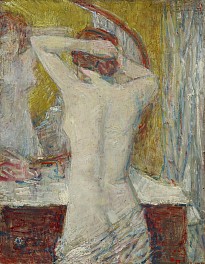 CHILDE HASSAM
(American, 1859 – 1935)
Frederick Childe Hassam was an American Impressionist painter and print illustrator, best known for his urban scenes and coastal landscapes. With more than 3,000 works of art produced in the 20th century, Hassam, and a member of the Ten American Painters, is often associated with other American Impressionists, including Mary Cassat, J. Alden Weir, and John Henry Twachtman.
Born on October 17, 1859 in Dorchester, Massachusetts, of impeccable Bostonian lineage, his given name was Frederick Childe Hassam. Hassam showed a love of art at a very early age, but became an accountant at the urging of his father. He left that career after mere weeks and began to train as a draftsman in wood engraving. In 1879, he began experimenting with oil paintings, but quickly moved to watercolors and subsequent work in illustration.
Hassam illustrated children's stories for magazines such as Harper's Weekly and continued to study art at the Lowell Institute and the Boston Art Club. He continued to paint what was around him—particularly cityscapes.
After signing early works "Fred C. Hassam," he dropped "Fred C." and began using "F. Childe" at the urging of artist-friend Celia Thaxter, who felt his middle name both more memorable and marketable. As of 1883, all derivatives of "Frederick" disappeared, and it was strictly "Childe Hassam" from there on out.
In 1886, Hassam and his wife moved to Paris, where he studied at the Académie Julian, which left minimal impact on his art, as he was far more interested in what the French Impressionists were doing. Though he didn't consider himself an Impressionist, he is best known for a similar use of color, light and brushwork.
Hassam continued to paint life around him and earned much acclaim. In 1916, he began creating "the Flag Series," a collection of flag paintings inspired by the war relief effort. The most famous of these, The Avenue in the Rain, resides in the Oval Office of the White House.
Hassam died on August 27, 1935 in East Hampton, New York.