BIOGRAPHY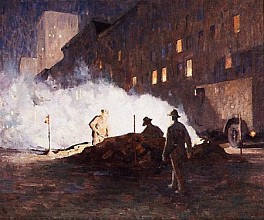 American, 1901-1966
ARTIST BIOGRAPHY:
Landscape and still-life painter Dines Carlsen, son of artist Soren Emil Carlsen, was born in New York in 1901. Naturally gifted, he studied with his father, and began to exhibit in large international shows at the age of fifteen. He and his father were artist members of Grand Central Art Galleries*, and in 1968, a joint exhibition honoring their work was presented. "The Emil and Dines Carlsen Award," of the National Academy of Design* is named after the father-son tandem of painters.

Although known primarily for still life paintings, he was highly regarded for his landscapes, which he painted on vacations throughout the United States and Mexico. He lived for many years in Falls Village, Connecticut, and had a home in Summerville, South Carolina. He was elected to membership in the National Academy of Design, New York City as an Associate in 1922, and an Academician in 1941.

In 1916, when the artist was only fifteen years old, one of his still-lifes was included in the 91st Annual Exhibition of the National Academy of Design, and another in the Sixth Biennial of the Corcoran Gallery of Art, Washington, D.C. He won the Third Hallgarten Prize of the National Academy in 1919 and the Second Hallgarten Prize in 1923. He also exhibited at the Corcoran Gallery of Art in 1923 and 1925; the Carnegie Institute, Pittsburgh, Pennsylvania, from 1920 to 1923, 1925, 1930; the Pennsylvania Academy of the Fine Arts*, Philadelphia, from 1917 to 1932; the National Academy of Design from 1915 to 1946; the Art Institute of Chicago, Illinois, in 1919, 1925, 1927; the St. Louis Art Museum, Missouri, 1919, 1921, 1923, 1926 to 1929; and the Detroit Art Institute, Michigan, 1920, 1923 to 1928.

Carlsen's paintings are in many private and public collections, including the Carnegie Museum of Art; Corcoran Art Gallery; the John Herron Art Institute, Indianapolis; and the Sweat Memorial Art Museum (now the Portland Art Museum, Maine).
MEMBERSHIPS:
1922, National Academy of Design, New York City as an Associate in 1922
1941, Academician